Employee Profiles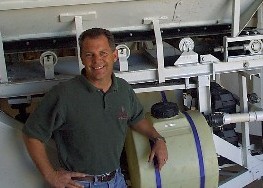 Jonathan Brewer- President/Designer and Inventor
Jonathan Brewer: Jonathan Brewer is the Founder and President of CleanSoil Technologies/EarthWorks of Safety Harbor, Florida. Mr. Brewer is the designer and patented inventor while CleanSoil/EarthWorks is the technology developer and North American Steel Assemblies is the manufacturer of the Matrix Enhanced Treatment System "METS" for the ex-situ treatment of organic and inorganic contaminated soils. Mr. Brewer has additionally designed the Wet Extraction Soil Treatment And Resource Recovery "WESTARR" for the elimination of dioxin in soil and fluid recovery of oil based drill cuttings.
Mr. Brewer is degreed in Hydro and Pyrometalurgy and is a Certified Environmental Inspector (CEI), Certified Environmental Specialist (CES) as well as one of the first designated as a Certified Remedial Specialist (CRS) and is a currently Licensed Environmental Professional (LEP). Mr. Brewer is a past Advisory Director of the Environmental Assessment Association and a member of the Florida Environmental Assessment Association.
The METS technology received the prestigious "Most Innovative Technology Award" from the University of California at Davis as well as the "Special Recognition Award" from BERC in Sacramento. The METS technology is recognized as a unique technology and as such has received a US Patent as both a method (process) and apparatus.
In the past, EarthWorks has utilized its METS processors for demonstrations and small to medium commercial projects however our current focus is to fully implement, through our licensees, the technology to fully "re-write" the book in on-site environmental remediation.
Jonathan has been a member of the California League of Cities as well as the Urban Land Institute. Mr. Brewer has held appointed positions of Project Review and Design Review Commissioner with the City of Roseville, California. He additionally was an elected Community Development District Supervisor in Pasco County, Florida and as such a member of the TBARTA Advisory Board. Mr. Brewer has most recently been the Economic Development Liaison with the City of Safety Harbor in his spare time.
Jonathan has completed medical mission trips to Guatemala, construction trips to the Dominican Republic and Evangelical missions to Romania. Jonathan was the President of the Rotary Club of Safety Harbor, Florida in 2013-2014 and District 6950 Assistant Governor 2015-2018. He currently is a Missions Board member of Bayside Community Church and "Smart Growth Safety Harbor".
Adriana Rodas –Manufacturing Manager
Adriana Rodas: Adriana Rodas has in the past been directly involved in the manufacturing processes making sure production follows appropriate workflow and assembly methods. She was constantly looking for ways to improve design and improve our processes using Lean-Sigma fundamentals.
Adriana was trained as a Six Sigma Black Belt and has a Certificate in International Business from The University of Washington with a degree in Mechanical Engineering from the Simon Bolivar University in Caracas, Venezuela. She joined EarthWorks Environmental in 2013, with a strong background in the oil drilling and production internationally and the heavy truck manufacturing domestically.
Immediately after graduation with a BSME, Adriana worked for a multinational oil service company as a Field Service Manager. In her early career she was directly involved in wireline data acquisition of exploration and development wells. Adriana worked in oil fields in Brazil, Ecuador, Colombia, Peru, Venezuela and also on offshore platforms in the North Sea. Later, she undertook a career with a major US truck manufacturer in the state of Washington as a leader of engineering services.
Adriana main motivation has been to make a difference and use all her experience to work for a clean earth environment. She is fluent in English, Spanish, Italian and Portuguese and keen to address any question or concerns from our international clients.
Adrianna is currently on sabatical to Ecuador with her husband.